The following article was written by Brandon, a Pathways to Education alum.
---
As kids, we're told we can grow up to be anything we put our minds to. That we can achieve anything, if we just work hard enough. That our dreams are within reach if we just believe.
But the reality is, for a lot of us that simply isn't the case. Believing won't put food on the table and it won't pay the rent.
Circumstances like where we live or how much money our parents earn can be a huge barrier to chasing our dreams, and that's the situation for a lot young people today.
Listen, there are lots of things high school students have to worry about. It's a stressful time! Exams. Prom. Making the team. No amount of money or support can make those things easier.
But students shouldn't have to worry about walking an hour to school in the freezing cold because they can't afford to take the bus. Choosing between eating that day or letting their siblings eat.
Growing up, my family and I didn't have much. My mom was often between jobs, and we moved around a lot.
When we finally settled in Kitchener, Ontario, the instability that had followed me around my whole life still lingered. It was hard to feel secure someplace when you never knew when you'd need to move again.
Seemingly small things like getting to school were a challenge, because transportation was largely unaffordable for my mom.
Then Pathways to Education came along.
The bus tickets they provided were a huge help, of course. That immediate financial relief for my mom instantly made everything easier. But more than that, the entire network of support I received from Pathways to Education helped me in ways I didn't even know I needed.
My mom was under a lot of stress. There wasn't always food to go around and living pay cheque to pay cheque meant work came first. She didn't have time to encourage me to do my homework or hold me accountable for my grades.
I struggled with a lot of classes. I didn't mesh well with certain teachers, and some of the traditional teaching methods just weren't getting through to me. I was a smart kid, I just didn't know how to leverage my strengths.
But the staff at Pathways to Education saw something in me and helped me unlock the potential that was there all along. They took the time to get to know me, and they cared about my success—probably more than I did at the time.
This was the boost I needed. Before I knew it, I was taking university-level classes and applying to post-secondary education.
I had an interest in IT and all things computer-related, and with the help of Pathways to Education, I was able to pursue that passion. I applied for college, but it wasn't plain sailing from there.
The financial struggles I had in high school didn't magically disappear when I graduated. My mom still had to pay rent, my siblings still needed to eat. With the hurdle of high school graduation out of the way, paying for college still seemed so far out of reach.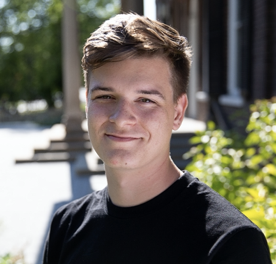 Once again, Pathways to Education was there to help. The scholarship they provided meant I didn't have to rely solely on loans, and the alumni network helped me unlock doors to opportunities I wouldn't have had access to otherwise. This set me off on a path to success.
Today, I'm a software developer at a tech start up. So, I guess you can say I'm living my dream—I made it.
But it wasn't easy, and I didn't do it alone. It was thanks to a series of small, but important, actions from an entire network of support that opened up to me when I joined Pathways to Education.
And so I guess it's true. We can be anything we want to be, we can achieve anything, and our dreams are within reach. Sometimes, we just need a little help to get there.
---
We gratefully acknowledge the following supporters who, through their support of Pathways to Education and Grad Ball, our annual fundraising gala, make it possible for youth like Brandon to follow their dreams.
Presenting Sponsor
Platinum Sponsors
Brookfield
RBC Foundation
Symcor
TD
Gold Sponsors
BCG – The Boston Consulting Group
HSBC
Nancy & Jon Love
Northbridge Financial Corporation
Shaw Communications